A Troubadour Revisited
My journey back to Charlottetown, PEI Canada for our ECMA week Songwriter Summit events this past February was a time of much reflective emotion and deep spiritual reconnection for me as many old friends and former music mates discovered each other again during this special gathering of songwriters and musicians from around our home town and from all around Atlantic Canada.

In my own case, it's been 30 long years since I left my birthplace of Charlottetown for the wilds of Toronto and Nashville, Tennessee. I've been back to visit on several occasions although I have not always had the opportunity to touch base with other songwriter/artists with whom I share musical roots. This is because performing/songwriters and musicians of our generation usually had to leave the east coast in order to seek viable professional opportunities in the music business.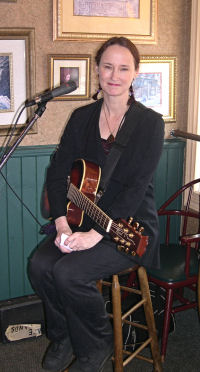 Bonnie LeClair is one of those artists. Bonnie is a very talented singer/songwriter and a sweet, special person. She's also one hell of a fine acoustic guitar player and was great even at 15 when she and I both performed in our early 70's singing group The Troubadours.

Bonnie also lived in Toronto for a number of years and she has enjoyed a wealth of experience as an artist and dancer, performing in theatrical & musical touring revues along with performing her music and songs on stages around the country with some big names like Gordon Lightfoot, Valdy and more. Bonnie LeClair has written songs with artists such as Ron Sexsmith among others so her professional experience and credentials as a songwriter/artist are solid. She's a "heart" person and a wonderful talent.

The Heart Rules is the title of Bonnie's latest CD and it's a beautiful collection of songs which I recommend to anyone so if you'd care to purchase it you can contact Bonnie through this site's email address and I will forward your requests on to her personally.

I'm sure she would be delighted and very happy to receive your interest in her songwriting and wonderful music. You'll love it!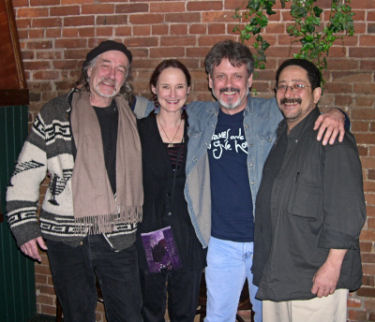 Lucian "Lucky" LeRoux, Bonnie LeClair, Frank Trainor & Scott Parsons

Walk Away Renee:
It's not often that I hear or read anything these days about
The Left Banke
whose seminal avant garde 60's classic
Walk Away Renee
still haunts my mind 40 years after it was a hit. So this
recent article
was great to discover as it tells the story of the sonically original band and the hit record that exploded their dreams for what very well may be the first time ever. Why it's also valuable information for me to learn about personally at this point is because I actually met the group in 1966 when they came to my hometown to perform a winter carnival event for our university. The promoter had arranged for the group to sign autographs and hang out with fans at a local department store. This was a major music buzz for me as I loved
Walk Away Renee
but it also seemed amazing and unlikely to me at the time that a hit group on the radio would ever visit tiny Prince Edward Island and actually hang out with their fans. Believe it or not, hardly anybody showed up so I was the most interested music nut of about ten other kids who came out to meet
The Left Banke
who were not really big stars, but who at least cared enough to come to Charlottetown, PEI. I was not only there and hanging out, I had a camera and a thousand questions to ask these guys about life as rock stars which was crucial information to me since I too would someday be wearing an American Flag for a tie as was guitarist Jeff Winfield who was also very appreciative of my interest in their music and the group's life at the time. We talked for over an hour. This was the first real working band I'd ever spoken with and the impression they made on me was huge. I mean just think about that one song for a minute. The only other record that comes close to
Walk Away Renee
from that era in terms of its classic sonic originality would have to be
A Whiter Shade Of Pale
by
Procol Harum
.
Anyway, I got dozens of pictures with me and the guys whose average age was only about 19 but since I was just a young kid of 12, they seemed much older and cooler to me of course and their hip styles from New York City in our little Eaton's catalog store were just incredible. Carnaby Street hip meets Broadway cool in the 60's.
UltraHip to the max of cool. Sadly my entire shoebox full of photos of me just hanging out with The Left Banke which had been tucked away for safekeeping were discovered in the attic at my parents house and were thrown out by my mother who figured that I wouldn't want them to be saved. This is an important and very special music memory of mine. Great hit songs and classic pop records were about the only thing that made my difficult life as a teenager bearable.

Just walk away Renee
You won't see me follow you back home
Now as the rain beats down upon my weary eyes
For me, it cries…