American Music Legend Buck Owens
The passing of
American Music Legend Buck Owens
brings back some powerful memories from my Nashville songwriter years not only in relation to my meeting the great Buck Owens himself at one point, but in relation also to so many other legendary artists, musicians and professional songwriters that I met and got to know on Music Row.
Thinking about one photo of me with
Chet Atkins and Jethro Burns
, I'm asking myself now why I didn't get Buck in the picture with us as he was standing right beside us just out of camera range talking with
Harlan Howard
as that 1988 photo was being taken. There were in fact many famous music industry people at that particular event [
Harlan Howard's birthday bash
] and it might have seemed that I could get Buck's photo any old time whereas Chet was more reclusive by this point so seeing him out and about on Music Row was a rarity.
The big deal was getting my picture taken with Chet Atkins and his also famous brother-in-law Jethro Burns who also happened to be another rare figure around
Music Row
in those years. Indeed, The Oak Ridge Boys table was set up right beside ours [
SBK/Combine
] and I didn't get photos of them either because...well...they were around our office and around everywhere on Music Row in those days and for some reason they didn't seem to me like such a big deal at the time.
Certainly not as big a deal as Chet Atkins or
Bill Monroe
.
Harlan Howard of course wrote several of
Buck Owens
hit songs including the big smash hit
I've Got A Tiger By The Tail
. I got to know Harlan during my time in Nashville and I'm very grateful to have had that opportunity at the time since he too has now passed on.
Another legend who I'm sure will feel the loss of Buck Owens at this point in time is
Merle Haggard
who is currently warming up to go out on tour again with
Bob Dylan
. Bob and Merle did a tour together last year as well that brought out more than a few famous concert guests along the tour including Buck Owens who hung out backstage with Merle sharing songs and road stories. Buck surprised Bob Dylan with a gift one of his famous red, white and blue American Music guitars.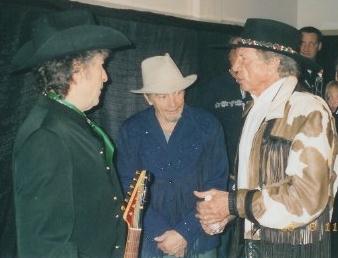 Bob Dylan with Merle Haggard and Buck Owens
Buck Owens was a great American music artist.

You don't hear unique individual spirits in music much anymore.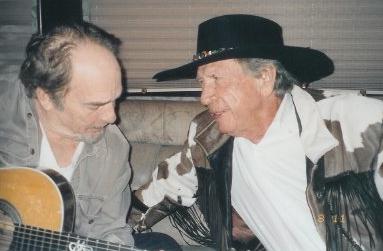 Merle plays a new Kris Kristofferson song for Buck


As Bob Dylan once said: Things Have Changed.

It reminds me of a song title of mine from Grace & Gravity

With deep respect for a true music legend

A Buck Is A Buck

Talking Points: Tom Spaulding pays tribute to Buck at his great music journey website called Caught Up In The Fable. Tom has worked with several artists such as John Fogerty. His Buck Owens piece includes a great video of Buck Owens and Don Rich performing I've Got A Tiger by The Tail. Check it out by pressing the play icon in the centre of the video frame below. And don't forget to turn it up!