From A Stretcher Handle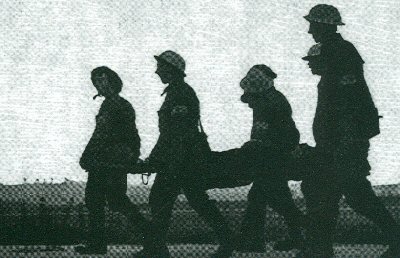 November 11, 2005
Veterans/Remembrance Day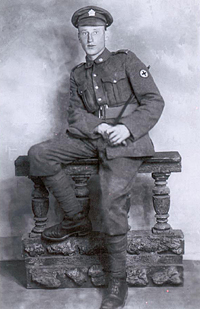 We honor those whose heroic sacrifices produced victory in war for the cause of liberty.
We join our spirits with those courageous souls who died on behalf of our freedom.
We shall not break faith.
Here is my own personal tribute to one veteran who served as a stretcher bearer in World War I.
Private FRANK WALKER
[1893-1977]
Field Ambulance, 1st Canadian Contingent
My Grandfather.
From A Stretcher Handle
The Guardian of Prince Edward Island, Canada, was regarded in my grandfather's time as the conservative newspaper of record.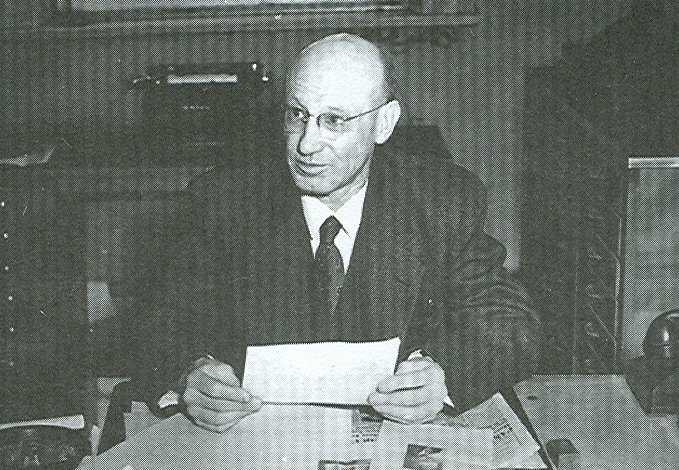 This was in no small part due to the fact that my grandfather was Editor of The Guardian for 35 years. A journalist for more than 50 years, Mr. Walker of The Guardian was widely respected across political lines for his objective impartiality, knowledge and consistently accurate reportage. He was respected also for his substantial philosophical viewpoints that he interweaved brilliantly into his editorial commentary, the substance of which defined his personal and professional ethics.
He was a thinker, a poet, and an engaging conversationalist whose intellectual studies and passionate indulgences as a lover of music, fine art and history, encompassed a devotion to literature and the timeless genius of classical composition.
A true renaissance man for the ages, the seekers of his light included a broad spectrum of intellectual society as other writers, artists, politicians, university professors, clergymen, poets and philosophers, all beat a well worn path to my Grandfather's library for their grateful audience with his mind as well as for the pure pleasure of his refined and tasteful company as a creative spirit.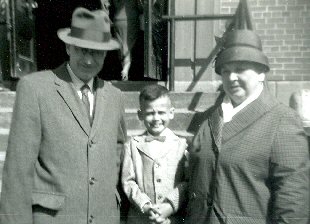 Being the eldest in my family and the first grandchild born to "Nana" and "Grandaddy" Walker on Prince Edward Island, I was closest to my grandfather in terms of affection and access and also in terms of shared intuitions and interests.
We were pals.
He taught me much by exposing me to all the greats in literature and music. He loved me of course, but he truly respected my youthful intellectual curiosity also as it so vividly reflected his own appreciations, which children wouldn't necessarily gravitate towards.
I had in fact read and absorbed Lewis Carroll's classic Alice In Wonderland / Through The Looking Glass eleven times before my twelfth birthday. Although Shakespeare's Twelfth Night was just a bit beyond my scope of understanding at the time, Dante, Joyce, Proust, Shakespeare and many more, were my constant teachers and constituted my steady diet of learning with my Grandaddy, because he knew and loved all of what that world of truly enlightened gifts represented to the mind and soul and he recognized my love and taste for it all as well. The music that filled my young ears was Mozart, Beethoven and Bach. Glenn Gould was a particular favorite.
Frank Walker's readers were regularly exposed to brilliant, indepth analysis of matters of cultural and political importance to the region and it's times and indeed Grandaddy's well studied reflections on Prince Edward Island history in particular were pointed to as being definitive in all aspects of historical accuracy. Interviewed once on a well known television program in the Maritimes, the popular newsmagazine show extended it's broadcast from a half hour to one full hour in order to provide the time properly required to convey Mr. Walker's indepth perspectives for viewers. It was the ONLY time in that program's many years of nightly broadcasts that it ever deviated from its regular half hour format. Indeed, the additional half hour was devoted exclusively to Mr. Frank Walker.
Grandaddy was a journalist and a poet who loved words, history and the solitude of deep intellectual reflections and pursuits.
Most Sunday afternoons would find him reading from one of his beloved books while listening to Wagner, Bach, Beethoven or Mozart while sipping a rum toddy and smoking his usual "roll your own" Vogue tobacco cigarettes in Vogue papers. They usually burned away while he read but I guess the smell of them added something to his solitary appreciations. It certainly has added to this account of my retelling as the scent of those smokes still wafts in my memory even now in describing that long ago ritual.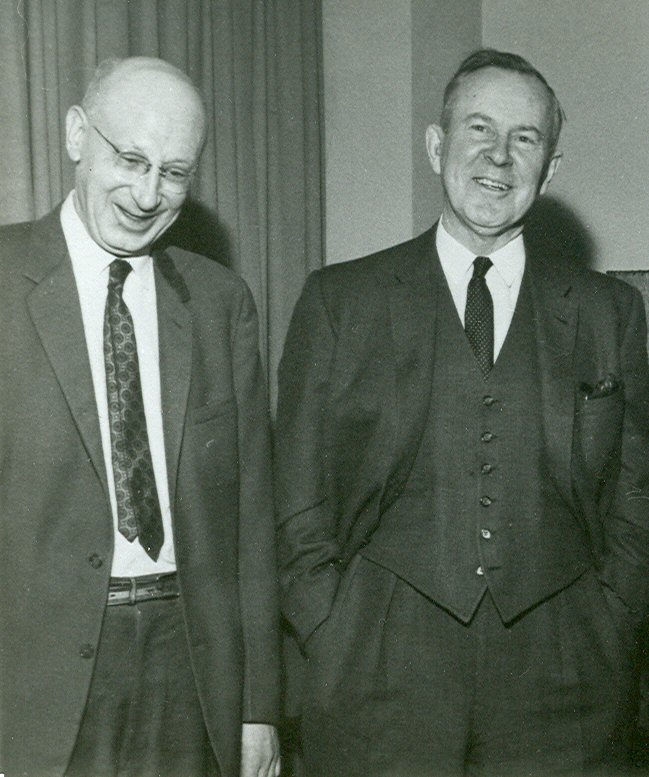 Frank Walker was admired in political circles at every level including the appreciation and true respect even of liberal Prime Ministers of Canada.
Photo: Frank Walker and PM Lester B. Pearson.
In fact, he was offered, but turned down, the opportunity to serve as a Senator in The Parliament of Canada.
That should tell you something of his true character especially in light of what partisan politics has produced in our times.
He thought it would take away his independence as a thoughtful provocateur and disturb his gentle life. I think he also understood only too well the death trap of partisan subservience to the established orders of any ideologically oriented political structure.
Certainly too, those proscriptions on his spirit of rugged individualism would be anathema to his own dispositions.
He loved his life of intellectual and artistic pursuits, which was his work as well as his passion, and he loved his family.
God Bless you Grandaddy.
Thank you for your love and for your service to your country.
You will always be remembered and your love will never die.
Your wonderful war time poems are classics. [See link below]
Aftermath and Packing Out [A Ballad of The Stretcher Bearers]
You etched forever in your "iodine chronicles" what it was truly like to wade "into the red confusion".
And you lived to tell the tale.
Thank God for that and thank God for your influence in my life.
I am proud to be your Grandson and proud to be a writer.
Just like you.
Frank Trainor