Lucky LeRoux Is Looking At You
My incredible journey back to my hometown of Charlottetown PEI for our recent Songwriter Summit @ ECMA's events encompassed many nostalgic personal encounters which I never imagined happening at the outset of my trip. Naturally I presumed that I would run into old friends and a few relatives living there and obviously, with 4 days of ECMA events and festivities being held in Charlottetown this year, maybe some long lost acquaintances from around the Maritimes might surprise me. It wouldn't be PEI if that stuff didn't happen.
But I've been living "away" for more than 30 years so the prospects along those lines have diminished now to some degree and while there are still a few people with whom I can connect on a shared memory level of our days in the 70's there, they are getting to be fewer in number and beyond that many are scattered everywhere now and many more long remembered are dead. Too many it seems.
So imagine my surprise [on stage] after playing a song to a packed house at our Friday performance of The Songwriter Summit when a shadowy mysterious figure emerged from the darkness behind the spotlights shrouding our view of the audience to present me with a handwritten note that read "LUCKY LEROUX IS LOOKING AT YOU…!"
Now for those of you who are already familiar with my 1981 album
The Comfort Sound Sessions
you obviously know that name, but for many others who do not know it, Lucky LeRoux [
Lucian Parkin]
is a long revered musician/poet whose artistic soul and musical energy captivated me completely in the early 70's back in Charlottetown when I was first coming of age in my own awareness as a young songwriter/artist. Lucian's family had come to PEI from England and his parents both taught and performed music all their lives so the river of music ran very deep within his soul as it still does today.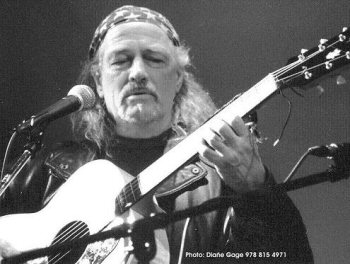 The remarkable thing is that since writing and recording my song about him more than 25 years ago, I've hardly seen him except for one occasion in Toronto in the late 70's or early 80's when he passed through the Big Smoke on his way to a family wedding in Vancouver.
Other than that, I haven't seen Lucky LeRoux for many long years but of course I've often thought about him many times over the years wondering how he was doing and if he still played and performed. Indeed, that's what the song
Lucky LeRoux
is really all about. Lucky was a nickname that somebody [probably George Antoniak] hung on Lucian early on and of course his last name was LeRoux for years until he changed it for reasons known only to himself. He is now Lucian Parkin but for those of us who remember the years when we first established our spiritual connections to one another in song and creative music culture in Charlottetown in the very early 1970's, he'll always be known and remembered as Lucian "Lucky" LeRoux.
The shadowy, shrouded figure presenting the surprise note to me from beyond the stage lights turned out to be my long time friend and good friend of Lucian's, Judy Cheverie. That was the best, Judy. Perhaps the coolest surprise anyone has ever sprung on me…EVER!
It was a wonderful, infinitely memorable reunion and one of the most incredible moments of my life to realize that Lucky was there with you in the audience enjoying our Songwriter Summit event.
Lucian was in town from Boston and was also performing as part of The Red Island Road Review Shows. I got to catch a set of his the next night and he and I also got together over the weekend to catch sets by former
Troubadours
Bonnie LeClair and Mike Mooney as well.
It was fantastic for all of us being together again after so long and getting to hear each other's work as mature music artists. Amazing!
It's interesting to note here also that at the same time Lucian LeRoux was playing with George Antoniak in
A Moment's Sunlight
[later to become
Storm
], that a few Charlottetown based songwriters were also emerging to some prominence with cuts of their material by recording artists who helped create a real sense among us all that our stuff was happening and would continue to be perpetuated.
Those songwriters included
Gene MacLellan
whose major hits
Snowbird
and
Put Your Hand In The Hand
became international standards and Marty Reno who's
Uncle Dad & Auntie Mom
became a hit for Cliff Edwards and The Bells. Also, Tom Gallant, who wrote a song that became a signature tune for George Hamilton IV called
Down East Country
. In that mix along with all these big icons and emerging influences among us was a local kid who scored a hit on RCA Records with a song called
Our Lovin' Times
by Canada's top country music group in those years,
The Mercey Brothers
.
Who was that kid…? Oh yeah, I remember…it was Frank Trainor.
Talking Points:
Special thanks once again to Bob at
Either Orr
for his recent great review of my current CD
Grace & Gravity
at his blogsite. Very cool to have my work so respected and appreciated by Bob knowing that he is a real music fan and a songwriting aficionado.
Spotlight:
In the spirit of some great and timeless music that I'm enjoying right now let me focus this week's spotlight on legendary songwriter
Bert Russell Berns
whose hits include songs Twist & Shout, Cry Baby, Piece Of My Heart & Here Comes The Night. See Bert Berns link at my Songwriters Gallery. You won't believe the hit songs and monster records this guy wrote and produced. Read his discography.