Modern Times
For what it's worth, here is my early impression of Bob Dylan's latest studio record
Modern Times
. Most of the 10 songs are kickin' well worn 3 chord country blues patterns mainly in B flat except for the final track
Ain't Talkin'
which is in the exciting key of G sharp minor.
Someday Baby
sounds like a warmed over revamped acoustic version of McKinley Morganfield's
Trouble No More
a great old song covered by
The Allman Brothers Band
more than 35 years ago, but it is far less potent than that solid rockin' blues strut of the early 1970's.
Other "lifts" Bob makes here include
Rollin' and Tumblin'
which blatantly "borrows" title & soul from the late, great Elmore James.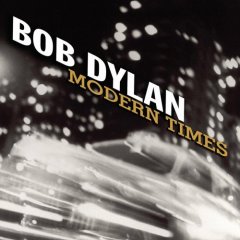 Modern Times indeed. More love & theft goin' on here than on the actual
Love & Theft
CD itself it would seem. How did Bob once put it in his song
Sweetheart Like You
...?
"Steal a little and they throw you in jail...steal a lot and they make you a king"
. But I digress.
I'll tell you, if Bob's current shows were even remotely like his new CD I'd simply stay home and just listen to the record. Better yet, I'd just pull out
The Allman Brothers Band at the Fillmore East
and take my pure rockin' country blues medicine straight up like a man.
In fact, I think I'll do just that very thing right now...please welcome
The Allman Brothers Band
…[crowd roars]...I feel better already.
Bob Dylan's live show rocks...so where's that energy on this new record...? Several songs on
Modern Times
feel like half-hearted performances of
Moonlight
from
Love & Theft
but without the brilliant musical dynamics and amazing songs on that stunning CD.
I love
Moonlight
...it's an original and classy "crooner" ballad from a landmark instant classic
Bob Dylan
record, but who wants an entire new album of shuffling country blues tunes all played & sung in the same flat key?
Modern Times
is boring, predictable and dull sounding to my ears. Not Bob's lyric powers. He's
Bob Dylan
for God's sake. He created the contemporary singer/songwriter template he emulates.
Bob can write songs. He knows how to do that far better than any writer alive and seldom disappoints as he continues on his journey to get as far away from himself as he can, but
Things Have Changed.

The man behind the curtain has stuck his head out here now just far enough to reveal his most basic craft tricks. All good stuff, but you can just give me
Cold Irons Bound, Down In The Flood, Cry Awhile, Lonesome Day Blues, Mississippi
and
Standing In The Doorway
.
Try recreating those sometime. The art is not as easy as it seems.
I will say, that because most songs on
Modern Times
are 3 chord country blues in B flat, it was really easy playing along with the tunes. I put the CD on...grabbed the guitar and played it as if I was working on the sessions....solo parts too...very nice songs for doing that especially since they need to be easy for my stumbling lead parts.
Still boring stuff though...the same low energy, the same flat key and 3 chord patterns for every song....I'm really disappointed by a lack of verve and variety that I was expecting...makes me appreciate the rich beauty of
Love & Theft
even more as it may now stand as the last truly great album
Bob Dylan
[Jack Frost] ever produced.
Modern Times
sure isn't. No matter what tonally challenged music critics and some pontificating Dylan "experts" might say. Sure there are interesting lyric catches here and there, but these songs sound like the "B" sides and worthwhile carryovers from canned sessions.
Sessions that did not include Larry Campbell or Charlie Sexton with all due respect to Stu Kimball, Denny Freeman & Donnie Herron.
Not that there's anything wrong with that when you're talking about
Bob Dylan
, but I was expecting something the hype hasn't delivered. The mellow tapestry weaved by Bob on
Modern Times
is fine as far as it goes, and it is not in fact a bad album, but as a unique creative benchmark its a far cry from
Time Out Of Mind
and a few light years behind the absolutely brilliant and truly remarkable
Love & Theft
.
Then again, we've come to expect these inconsistent revelations and brilliant song gems from an artist who has never failed to deliver at least one masterpiece on every album of his career over a 42 year span of creative output...an artist who is still touring, still recording and still evolving as an artist at the age of 65. That itself is brilliant.
So we'll give this one to the man...he deserves it. Thank you, Bob.
Talking Points:
Personal
Bob Dylan
recommendations include the following albums:
Time Out Of Mind, Love & Theft, BioGraph, Blonde On Blonde, Highway 61 Revisited, Blood On The Tracks, Bringing It All Back Home, Desire, Another Side Of Bob Dylan
, and
John Wesley Harding
. Also, the new bio/doc
No Direction Home
.
Spotlight:
Amazon.com has their
Modern Times
order page up now with a great bonus feature video clip of
Bob Dylan
and His Band performing
Cold Irons Bound
from 2003's
Masked and Anonymous.
Click on the
Cold Irons Bound
link above and scroll down. Enjoy!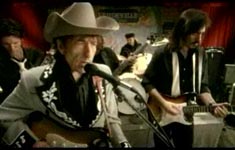 P.S. Don't forget to turn up your speakers....it's a great performance.