Bucko Trainor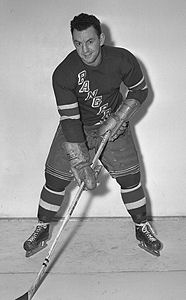 Wes "Bucko" Trainor
was Prince Edward Island's lone contributor to the National Hockey League during his era, and only the third Islander to enter the NHL, performing at centre ice for the top forward line of the New York Rangers.
As centre man and right winger,
Bucko Trainor
achieved the Big Time with the 1949 New York Rangers, wearing number 14. In the words of Rangers coach Lynn Patrick, "If all the boys hustled like
Bucko Trainor
, this team wouldn't look so bad."
Learn more about
Wes "Bucko" Trainor
at
PEI Sport Hall of Fame
.
Gallery Focus:
There is something undeniable in the Trainor genetic code that compells our tough lineage to aspire to great heights of achievement and success despite impossibly difficult challenges.
Check out the first installment of our new
Gallery Focus
feature.
Hangin' Tough
is from
Nashville Gallery [#5]
at franktrainor.com
Life in Nashville was good. I was enjoying meeting so many great and talented people, I was writing songs for a living, performing at The Bluebird Cafe and other live venues, enjoying a very happy family life and scoping out career prospects which were slowly beginning to take shape. At a certain point however, Combine was sold to a larger New York publishing corporation known as SBK. Priorities began to change drastically from within the corporate environment as well as within myself. I was beginning to feel less and less inspired as a corporate songwriter and more motivated to expand boundaries of my own vision... Read the whole story at
Hangin' Tough