Nashville Songwriters Hall of Fame
It was an honor and my distinct pleasure to be invited to attend the
NSAI
[Nashville Songwriters Association International] 37th Annual
Hall of Fame
Banquet which was held this year on October 22nd in the Grand Ballroom at The Renaissance Hotel in Nashville.
This major annual event on the
NSAI
calendar represents for all songwriters the true crowning glory of honor towards great icons of our professional craft and as such, it is always a very gratifying and deeply humbling experience for everyone who participates.
Presented by the
Nashville Songwriters Foundation
, the dinner and ceremony features formal induction of writers into the
Hall of Fame
from two categories: Category 1 honors songwriters whose first significant work occurred 20 or more years ago and Category 2 honors Songwriter/Artists whose first significant work occurred 20 or more years ago. There are two songwriters inducted from a short list of selected nominees in Category 1 & one songwriter/artist inducted from Category 2. This year's songwriter inductions were greats
Hugh Prestwood
&
Jim Weatherly
. Songwriter/Artist was
Jimmy Buffett
.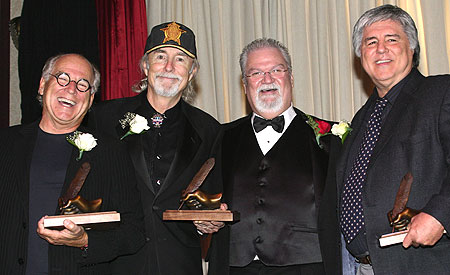 Music Row
magazine has a complete scoop of the evening's entire proceedings and even mentions my name in its "who's who" review of notable songwriters in attendance. It was kind of the reviewer to note me among songwriters & industry icons such as
Darrell Scott
,
Pam Rose
and
Mark Wright
, but in all humility, they much more than I, truly deserve mentions for stellar careers which I cannot claim.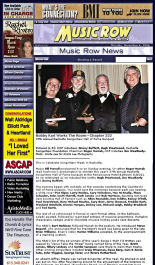 I'm just very happy and deeply honored to even be mentioned in the same sentence or article with these amazing talents and icons of our creative business.
Just click on the
Music Row
thumbnail image at left to enlarge the page and read all about it.
Tricia Yearwood
was there of course & sang
Hugh Prestwood's
classic
The Song Remembers When
, along with other stars such as
Big & Rich
,
Michael Johnson, Skip Ewing
and of course
Jimmy Buffett
.
The list of nominees from both categories eligible for
Hall of Fame
induction this year included legendary Songwriter/Artists
John Hiatt, Tony Joe White
and
J.J. Cale
[writer of
After Midnight
and
Cocaine
]. I figured it to be
J.J. Cale's
night when
Eric Clapton
emerged from an elevator in the lobby of the hotel just prior to our reception, but it turned out to be
Jimmy Buffett's
night instead.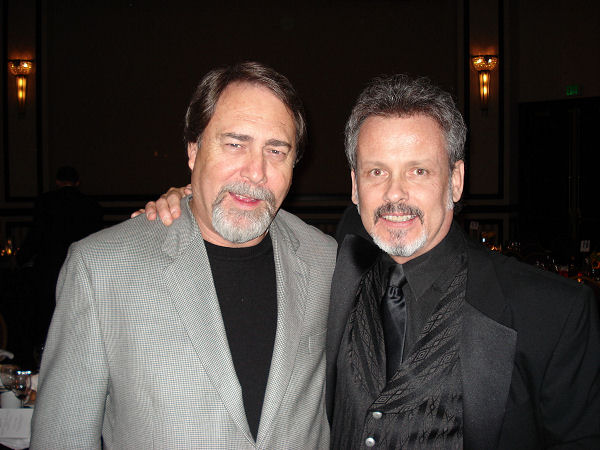 On the personal front, it was fantastic to reunite again with many great friends and former colleagues such as
Jim McBride
whose famous hit songs include
Chatahootchie
[
Alan Jackson
] and a great
Waylon Jennings
favorite
Rose In Paradise.
Also,
Tony Hazleton, Wayland Holyfield, Richard Leigh, Bob Beckham, Jody Williams, Del Bryant,
Manuel
and many more.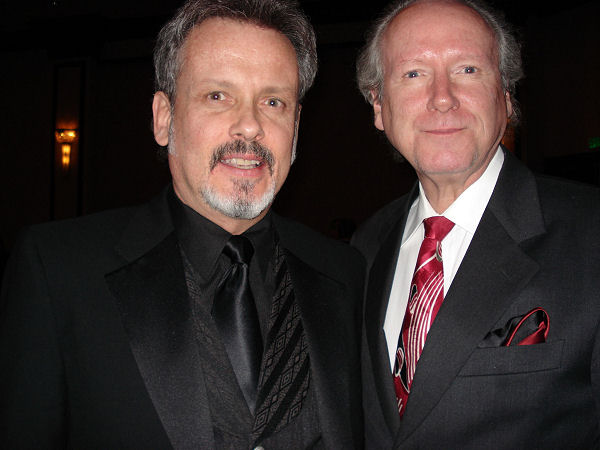 Robert K. Oermann
too, the music critic who once gave me a review in
Music Row
magazine with the following quote:
"Sign me up for the fan club...a voice full of heart and an A+ for songwriting"...
Robert K. Oermann
is a country music historian, journalist /critic and once was a judge on Nashville Star.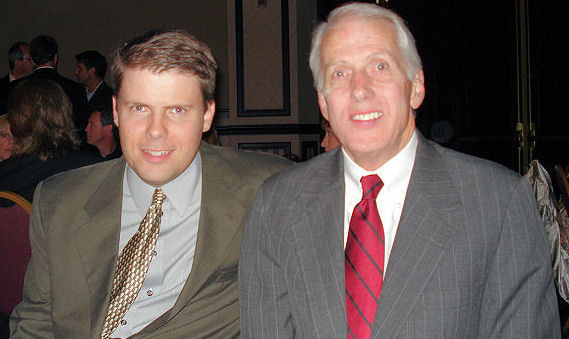 All in all, the 2006
NSAI Hall of Fame
dinner was a great event with many warm encounters between old friends and new including my tablemates for dinner,
Dr. David Murph
and his son Dan. David is on the advisory board of the
Nashville Songwriters Foundation
. David and Dan and I became fast friends. It was my honor to be seated with these distinguished gentlemen and I enjoyed meeting them both.
Stay tuned for more Nashville related stories and photos from my Music Row journey as the spirit moves and the tale unfolds.